Playgrounds Get Imaginative: Carousels, Castles and . . . Xylophones?
By Rina Rapuano
Special to The Washington Post
Sunday, June 24, 2007; M05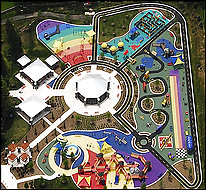 Let's face it: With video games, nonstop cartoon networks and SUVs equipped with DVD players, playgrounds have a lot of competition. Maybe that's why today's designers are stepping up their game, creating fun and educational spaces that eclipse the slide-and-swing-set combos of yesteryear.
Sarah Masterson, author of "DC Baby: A Handbook for Parenting in (& Around) the Capitol City," says she favors playgrounds that are sheltered from sun and traffic while still being open and welcoming.
"Since play really is the 'work' of childhood, my favorite playgrounds offer many different types of challenges," she says. "They may have a space for getting your hands in the sand or dirt to dig and build; wider open spaces for running and jumping and kicking a ball; climbing, swinging and sliding; and transitional spaces for imaginative play."
The Washington area is chock-full of places to play, and we've found a few destination playgrounds -- new dynamos and old favorites -- that are worth the trip for you and your wee ones.
Clemyjontri Park
The vibe at this McLean park is a bit manic -- which is cool if you want your kid to burn off some excess energy, but maybe not so great if you want to peacefully while away an afternoon.
The play area covers nearly two acres and caters to children of all physical abilities by incorporating ramps, swings with special safety features, Braille and a rubber surface that provides smooth sailing for wheelchair users. A central carousel is surrounded by four themed sections: the Rainbow Room, Schoolhouse & Maze, the Movin' and Groovin' Transportation Area, and Fitness & Fun. Several wheelchair-accessible play structures rock and sway, and a tyke-size road twists through the site.
Carrie Sachdev and her daughter, Raina, 2, have trekked to the Clemyjontri playground from their D.C. home several times since it opened in October. Sachdev says the crowded parking lot is a downside, and other parents have complained about the lack of fencing. But she has been impressed with the playground equipment, much of which allows parents to interact with their children rather than sit on the sidelines. "[Raina's] not very adventurous when it comes to climbing and slides, but the cars and houses she likes," Sachdev says.
6317 Georgetown Pike, McLean, 703-388-2807, http://www.clemypark.com.
Discovery Park
Hidden behind Sully Elementary School in Sterling, Discovery Park is indeed a discovery. The 11,000-square-foot playground was designed with education in mind. Cutouts of Mount Vernon and Monticello, as well as depictions of their famous residents, give kids mini history lessons. A Virginia timeline runs from Jamestown's settlement to the end of the Civil War, and a painted wheel shows how certain veggies look aboveground and below.
But it's not all work at Discovery Park. There's plenty of play, too. Several large obstacle courses are decked out with slides, turrets and places to hide, and there's a tot lot for kids ages 2 to 5. Music lovers can make up songs or just bang away on the xylophone, vibraphone and bells.
The playground is only for Sully students during school hours but is otherwise open to the public. School is out through Sept. 3.
Discovery Park, Sully Elementary School, 300 Circle Dr., Sterling, 703-444-7470, http://www.sullypto.com.
Friendship Park
This decades-old spot, often called Turtle Park, may not have the bells and whistles of today's play spaces, but the Northwest Washington playground is still a destination for many parents. On a recent warm, breezy day, Crystal and Matthew Bowman of Woodbridge took daughter Moira, who's nearly 2, on a family field trip -- their second visit to the playground.
Crystal Bowman, who learned about Turtle Park on the Internet, says she appreciates the large sandbox with turtle sculptures, the picnic area and the trees that provide plenty of shade. "I love the fact that there are toys that are left on the playground, so I don't have to worry about bringing a ball or anything," she says.
Author Masterson lists the 13,000-square-foot playground in Turtle Park as her favorite. "There's a shaded picnic bench, plenty of seating around the edge of the playground for adults and a [water-spouting] 'sprayscape' that is very popular in summertime," she says.
Masterson also praises the playground's soft surfaces, low fence and multicultural vibe.
45th and Van Ness streets NW, 202-282-2198, http://www.turtlepark.org.
Hadley's Playground
Children of all abilities mingle and play on the wheelchair-accessible equipment at this Potomac spot -- all thanks to a mother who wanted equality for her disabled daughter. The play structures at Falls Road Local Park include a ship, a castle and a frontier village that incorporate the obligatory swings and slides while encouraging imaginative play. Signs have Braille, and the soft, colorful surface under the equipment ensures a few fewer bumps and bruises.
"It's an excellent example of what can be done to make a playscape truly accessible to all children, including those with special needs," Masterson says.
Though she wishes the eight-year-old, 34,000-square-foot playground had more shade, Masterson says this space has a lot to offer in the way of play: "The equipment is really creative and fun, and my daughter loves the painted-on 'roadway' that snakes throughout the playground for riding trikes." Masterson also notes that there's a huge globe with raised surfaces for the continents and several types of swings.
Hadley's Playground, Falls Road Local Park, 12600 Falls Rd., Potomac, 301-299-0024, http://www.montgomeryparks.org.
Watkins Regional Park
Lisa Cason of Upper Marlboro, who was recently found corralling her 3-year-old nephew, Marquez, on the Watkins Regional Park playground, is something of a playground expert. She runs a family day care and spends a lot of time scoping out facilities to find the ones her charges will enjoy most.
Watkins, in Prince George's County, offers kids a variety of things to do, Cason says. The playground has colorful and up-to-date equipment with several swing sets, cubbies and places to climb. The equipment may not be as snazzy or as abundant as at other playgrounds, but the park's amenities -- which include a carousel, a train that winds through the woods, a nature center, a miniature golf course and a farm with animals and gardens -- make the 25,000-square-foot playground stand out, she says.
Marquez's take on Watkins was simpler: "Swing! Jump! Slide! Yeah!"
301 Watkins Park Dr., Upper Marlboro, 301-218-6700, http://www.pgparks.com/places/parks/watkins.html.