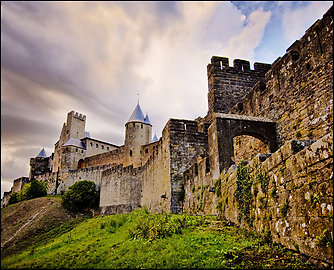 In the Land of Castles
In France's Cathar Country, A Fortress Around Every Turn
By M.L. Lyke
Special to The Washington Post
Sunday, March 23, 2008; P01
The castle was small, crumbling, a ruin in every sense. But in the morning hours of an overcast April day in the south of France, it was all ours. The only sound was our own quick breaths as we ascended the footpath to Castle Aguilar. No voices, no ringing cellphones, no beeps of digital cameras. Just two people, off-hours, offseason, off the beaten path in a French fortification almost 1,000 years old.
Something happens in that hush. The weight of a place takes hold. The imagination takes off. Mine was flying as I rubbed the castle's thick, rough walls, picturing the times they had witnessed -- times of counts and courts, knights and damsels, inquisitors and dungeons, sackings and sieges. Had a wandering troubadour stood at this same spot, singing songs of unrequited love? What lords had sent armies over these walls to vanquish defenders? Had the boots of black-hearted Simon de Montfort, who reportedly stormed Aguilar in 1210, swept across the stones at my very feet?
I peered through the long, skinny archer's slots in Aguilar's semicircular guard towers, down to the rolling green plains patched with old vineyards below us. Wild thyme and rosemary edged into bloom at castle's edge. The stucco walls of the medieval village of Tuchan -- where we had happily dined the night before on robust blood sausage, coq au vin and aged chevre -- glowed rosy in filtered morning sun.
We had road-tripped our way into the heart of France's Languedoc-Roussillon region, the history-rich corner of France that reaches down to the foothills of the Pyrenees and on to the Spanish border. It embraces a pretty countryside called Cathar Country, a land of castles, cassoulet (the signature white-bean stew of southern France) and, once upon a bad time, Catholic Crusaders determined to wipe out "heretic" Cathars.
The Cathars were followers of an anti-materialistic Christian sect that shunned meat and held some radical ideas about the abuse of religious power by the church. They believed evil forces ruled life on Earth, a belief surely reinforced as the zealous Montfort and his Crusaders gouged out their countrymen's eyes, mutilated their bodies, slaughtered their infants and threw their elders on burning pyres.
Intolerance, this Cathar Country will remind you time and again, is a beast of insatiable appetite.
The Local Flavors
We'd scheduled our visit in mid-April, knowing the weather might be chilly, the skies might weep, and tourist events might still be in winter shutdown. It was a good trade-off. No queues, no rush through antiquities, no press of crowd and no tail-riding Renaults on narrow, winding roads.
Renting a car in Marseille, we headed for the country, down roads lined with still-bare plane trees. In Saint-Remy-de-Provence, we stopped at the busy Bistrot des Alpilles for a salad and plat du jour: carefully arranged snails, cod, fresh vegetables with aioli, washed down with hearty Burgundy and finished with a heavenly chocolate mousse. We ate like the locals, slowly savoring the simple fare.
We reached nearby Les Baux an hour and a half before the place shut down. Perfect timing. Parking lots and tourist shops in the old village that cozies up to these stellar ruins were emptying out. The charter buses had taken off. Even offseason, this popular site packs them in.
Like many strategic castles in the south of France, Les Baux, at a distance, is almost indistinguishable from the limestone outcrop it clings to, dipping and diving with the fall and rise of rock. Its walls were quarried from the very stone it sits on. Some were built right into it. It's as cleverly camouflaged as a chameleon in a rain forest and equipped as if for heavy warfare, with life-size working replicas of medieval siege weapons. Most captivating was the storied trebuchet, a Paul Bunyan-scale catapult that, in some locales, flung not only hundred-pound rocks and fire, but also disease-infected corpses over castle walls.
We climbed the highest towers -- watching our step on the slippery stones -- and peered down on Provence's lovely villas, vineyards and orchards, and beyond to the Camargue, the largest river delta in western Europe, formed by two arms of the Rhone River. We crossed into the oozy marshlands the next day.
Heading down the highway, we passed farm stands selling spicy sausages, mustards, globular artichokes and ghostly white asparagus. We rolled past beautiful old farmhouses and wineries with "Entree" signs out front. Their rows of untrained vines rose black and twisted from the rich delta soil. We found the wine they produced drinkable and inexpensive, a bargain $5 or $6 a bottle.
The Camargue has its own formidable fortress, Aigues-Mortes, built by Louis IX to secure France's hold on the Mediterranean. It's an imposing structure that seems a logistical improbability. How could all those heavy towers and wide crenellated walls remain standing for centuries on this spongy marshland? And how did Louis IX's contractors get the materials here in the first place?
Today, the walls of Aigues-Mortes enclose one of Europe's best-preserved medieval cities, a bustling, friendly place with bakers, butchers, fashion designers, souvenir shops, cafes, candymakers, churches, restaurants, vacation rentals and hotels. At a grocery store, we watched locals fill plastic jugs from the spigots of huge wine barrels as if they were pumping petrol into a jerrycan. We got into a lively discussion in rudimentary French with an Aigues-Mortes butcher who could understand neither American politics nor the country's fascination with eating salmon. He had, he said, had it only in cans.
When Pigs Flew
The farther south we headed, the less English we heard. There was not a word of it at our next stop, Sete, a down-home fishing port some call the Venice of southern France. Maybe the comparison comes from the main canal, flowing past stucco buildings with wrought-iron balconies. But this is a Venice of salt and funk, an authentic working town where the air smells like iodine and seafood restaurants pull tables right up beside big fishing trawlers, selling plump mussels and fries for $17, with wine and accompaniments.
It was our last seaside stop before heading inland to Cathar Country and its grande dame of French fortifications at Carcassonne, a center for Cathars in the 1200s that was romantically restored in the 1800s and named a UNESCO World Heritage Site in 1997.
Seen from below, in the lower city of Carcassonne, the citadel is breathtaking, immense, an estimated two miles of imposing wall and jack-o'-lantern battlement. It's so fantastic it seems unreal. Some critics argue it is, with inauthentic, fairy-tale cones topping dozens of guard towers and, across the drawbridge, an interior city transformed by tourism, with souvenir shops hawking kitschy crosses and statues, faux armor and shields. Even in April, off-hours, the narrow streets of the walled city were packed with people and puppies and mini-knights swinging plastic swords. I couldn't imagine the place in summer. I didn't want to.
Evening is a different story. Floodlights give a dreamy feel to the castle's exterior. Inside, the streets clear out and reclaim their old-world charm. We reserved a table at the Dame Carcas restaurant -- named for the noblewoman who, by legend, outsmarted invaders trying to starve out the town when she fattened a sow with the last of the town's grain and threw it over the ramparts. The pig burst and the enemy withdrew, convinced food was aplenty inside the walls. I kept thinking of that martyred pig as we stuffed ourselves with delicious p¿t¿s, cheeses, honeyed piglet, cassoulet and caramel custard.
We drove away from Carcassonne on cultural and culinary overload and headed deep into rural Cathar Country, where sweet green landscapes rise to great jagged upthrusts of ancient stone. Knolls are topped with Gothic cathedrals and small medieval villages, where wisteria crawls over wrought-iron fences and falling stucco walls reveal layers of civilization that date from Roman times. The air is sweetened with aromatic wild thyme, rosemary, juniper.
It's good country to get lost in, and we were well off course when we stumbled across the luxury wine estate of Domaine Gayda, near the blink-it's-gone village of Brugairolles. The modern estate is part of a growing movement to change the region's reputation for quantity over quality in its wines, and the sophisticated sommelier in the Gayda wine-tasting room poured samples of surprising depth and fullness.
The estate's dining room was uptown chic: white linen tablecloths, silk orchids, creamy leather chairs, floor-to-ceiling art photos, arched windows that look across vineyards to the snow-capped Pyrenees. Was that Mose Allison on the speakers? Our lunch was art: young fork-tender asparagus topped with aioli and deep-fried parsley, herbed goat terrine, a layered dish of pasta, ratatouille and sea bass, with a melange of fresh herbs, all complemented by Gayda's crispy sauvignon blanc.
History Straight Up
Soon enough, we were diverted again. This time, it was a sign for Roman baths in the little town of Alet-les-Bains, on the banks of the Aude River. The thermal spa was closed, but we discovered an enchanting village behind the 12th-century archway, with streets so skinny we had to abandon our car. On this offseason midweek day, those streets were empty except for a score of lovely paper butterflies hung overhead and the ticket-taker at the village's 9th-century abbey. We wandered the ruins alone, squishing through tiny doorways, tracing delicate stone carvings and studying the graceful arches that were nearly destroyed during the 1500s wars of religion between Catholics and Protestants.
The next morning we climbed the hill that led us to Castle Aguilar and stood undisturbed on that hilltop, in the early blue bloom of spring, our imaginations at play. It was our last big day of adventure in Cathar Country.
That day included what surely must be two of the most unspoiled and romantic ruins in France, the castles of Queribus and Peyreperteuse. No kitschy souvenir shops in these windblown forts, perched impossibly high on rugged limestone peaks and accessed by foot over rocky trails that would traumatize an acrophobe. The trails are so dangerous in storms that they're closed to tourists.
We drove up narrow, winding roads toward the partially reconstructed castle at Queribus, parked the rental, then huffed a quarter-hour up the mountain, wide-stepping across limestone blocks and wondering at the logistics. How could the Cathars have ever thought they could get enough food and water up these steep cliffs to withstand a grueling siege by Crusaders?
They couldn't. History books describe Queribus as the last Cathar holdout to fall to the church's warriors, in 1255.
Peyreperteuse was another catch-your-breath hike up uneven stones, a half-hour of slogging. At the top, we found our way into the first of two huge, skinny, curling castles that crept along a knifed rock ridge more than 900 feet long. Peyreperteuse is a staggering site, history straight-up, raw, unreconstructed -- but not uncostumed. We ran into a crew of "medieval" guides in full dress, offering demonstrations of the ancient art of falconry.
Unfortunately, the show's star, a juvenile bald eagle, had been spooked by a mountain dog and fallen upside down, leashed to its perch. The magnificent bird struggled like a lowly chicken set for slaughter until a young damsel with a leather armband came to his rescue. She carried him off, and the show began.
What a show it was. The eagle tore away from the falconers and soared, leaving behind the rough-and-tumble castle walls and the tourists with flashing cameras. He was gone five minutes, then 10. The falconers fretted, checked their watches. Was he making his escape?
I found myself rooting for the wronged bird as he flew higher and higher, cutting huge circles over this old, undulating landscape crossed and crisscrossed by centuries of ambitious lords drunk on property and power.
The eagle landed after 20 minutes, returning to the noisy world of humans and leather tethers. I don't know why. I was still puzzling it out the next day as I packed my bags, reluctant to leave the land of castles and cassoulet, Cathars and Crusaders, bravery and butchery -- a land of so much beauty, soaked in so much blood.
M.L. Lyke last wrote for Travel about Barcelona.