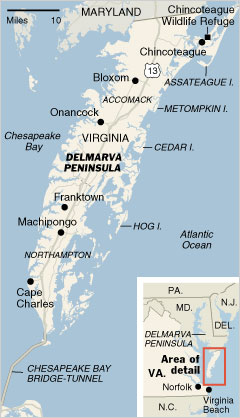 NORTH, out of Virginia Beach, it was just water and sky, sea gulls and salt air.
Except for two brief dips beneath shipping channels, you have been skimming along the entrance to Chesapeake Bay on the 17-mile-long Chesapeake Bay Bridge-Tunnel. With trucks and motor homes whizzing past, it paid to take it slow. Was that a pelican? Are those geese, or cormorants? And look at that freighter out there.
From high points on the Bridge-Tunnel, the land to the north looks flat, with fingers of water grasping a marshy shore to the right. You have a choice. Do you return to the Jungle Golf, boardwalk and other attractions of Virginia Beach and Norfolk? Or do you keep going? There's an opportunity to make a U-turn and go back south without paying the toll again — but let it pass. What waits ahead is worth checking out.
This is the Eastern Shore of Virginia, the southern tip of the Delmarva Peninsula, two skinny counties strung between Maryland's own Eastern Shore and the Bridge-Tunnel. It's only 65 miles long and no more than 10 miles at its widest. But time is its most elemental dimension: time for nature and wildlife to reclaim island after island, time for one economy to wither and another to grow, time for beaches to form, fill with shells, then vanish.
The first stop is on the right, just after the Bridge-Tunnel: the Eastern Shore of Virginia National Wildlife Refuge. The visitors center focuses on coastal wetlands, while a photographer's blind lets you get close to whatever fowl are settled on the small pond behind the center. The refuge is part of a swath of protected coastal habitat that includes most of the roughly two dozen barrier islands that line the ocean side of the Eastern Shore. All fascinating, but it is getting to be time to eat.
Up the road, on the Chesapeake Bay side, sits Cape Charles, a town of about 1,100 that was once a terminus for the New York, Philadelphia & Norfolk Railroad. Head to Mason Avenue, where a row of harborside restaurants, art galleries and shops have become popular weekend destinations. Lunch depends on what you want to drink. For a wide range of beers, there's Kelly's Gingernut Pub. For a latte or an espresso, there's the Cape Charles Coffeehouse.
After lunch, keep north on U.S. 13, the Eastern Shore's spine. When you get to Machipongo, turn left onto Route 627 for two very different stops. First is the Barrier Island Center, housed in Northampton County's former poorhouse, a shrine of sorts to the hotels, watermen and rich island visitors of another era. Once there, Jerry Doughty, museum guide and retired high school history teacher, is the ideal person to acquaint you with the region. His family once lived on Hog, one of the barrier islands.
"There were pirates — including Blackbeard — and smugglers and false basements," Mr. Doughty says of island life. He adds that his own great-grandfather — who can be seen in a photograph at the center — was imprisoned during the Civil War for smuggling. During Prohibition, he says, ships carrying liquor from Canada, the Bahamas and elsewhere would anchor beyond the three-mile limit.
By the 1920s, though, the islands were already in economic decline. In 1933, Mr. Doughty says, nature delivered a crushing blow with what's known locally as the Great August Storm, which destroyed many buildings. Other major storms that decade did further damage and discouraged rebuilding. By 1940, only Chincoteague still had residents.
After the Barrier Island Center, travel farther west for a return to the present and perhaps a glimpse of the future at Chatham Vineyards. The winemaker there, Jon Wehner, harvests about 70 tons of grapes from 20 densely planted acres on Chatham Farm.
"The Eastern Shore is great for grapes," Mr. Wehner says over a glass in the tasting room. "It's a moderate maritime climate, like Bordeaux, and has sandy loam soils." His priciest wine is an award-winning Bordeaux-style blend of merlot, cabernet sauvignon and cabernet franc. He says he sees no reason why the area can't become a viticultural center on the order of the North Fork of Long Island. There are two other local wineries: Bloxom Winery in Bloxom and Holly Grove Vineyards in Franktown, both north of Machipongo.
SO, with all its assets, why isn't the region better known? One reason is poverty. These two counties, Accomack to the north and Northampton to the south, with a combined population of about 54,000, are among the poorest in Virginia. As is happening all along the Chesapeake, the fishing and crabbing industries are in decline. There is still productive crabbing in the salt marshes on the Atlantic side, but many watermen have moved away to find work. You can drive down almost any road and see abandoned and derelict houses.
Another factor is the Civil War. Virginia promotes Civil War sites the way Florida promotes orange juice, but it keeps quiet about how it turned its back on the Eastern Shore and allowed Union forces to occupy it in 1861 without a fight.
It is getting late after the winery. Some of the best accommodations and best dining are in Onancock, a Chesapeake harbor town of about 1,500. Be sure to take in the tiny harbor, browse in the shops on North and Market Streets, and pick a place for dinner, perhaps the wine bar at the North Street Market, where diners sit around a piano-shaped bar to mingle and talk all evening.
The next day, you have to see those deserted barrier islands — most owned by the Nature Conservancy or various government agencies — for yourself. And that means a boat ride or a kayak trip.
The islands are basically sandbars, some of which have developed forested uplands. Few signs of human habitation remain — there are no ghost towns — but their attraction remains strong not only for their beaches and wildlife but also for studies on how barrier islands and their beaches move, replenish, erode and otherwise do what they do when they aren't lined with condo towers, boardwalks and artificial jetties.
Kayaks are a good way to explore, and Cedar Island is a frequent destination for tours led by Dave Burden, who owns SouthEast Expeditions, which also rents kayaks. Mr. Burden wears two other hats: he's a Northampton County supervisor and he's the Virginia Eastern Shorekeeper. He has been in the kayaking business for 15 years and knows the little channels — creeks, he calls them —that are too narrow or too shallow for motorboats.
When Cedar Island shows up in the distance, its dunes are a white stripe against the sky and water, and the wind tastes of salt. There are grasses but no trees. An old Coast Guard station and a tower mark the southern end of the island. At the beach on the bay side near the island's north end, Mr. Burden cautions to stay below the wrack, the dead vegetation at the high tide line; above the tide line are the nests of shorebirds and perhaps loggerhead turtles.
He encourages people to examine the shells that carpet the beach, explaining the difference between a knobbed whelk and a channeled whelk. He picks up an oyster shell eight inches long and an inch thick. "These big ones," he says, "are historic — they don't get this big now."
He later finds a three-inch-diameter shell, not unlike a snail shell, that he says started out on the bay side of the island, got buried as winds and waves pushed the island over it, and re-emerged decades or a century later on the ocean side, blackened by time. Back on the bay side, there was a smaller version, this one fresh with the brownish-gold color that gives the shell its name: tiger's eye.
Mr. Burden points toward nearby Metompkin Island, which he describes as the "fastest-moving real estate in the United States." He says that it, like other islands here, is moving toward the mainland. Storms and other events influence the pace, and there's no date predicted for its merger with the mainland, but, Mr. Burden says, "It's happening in human time, not geological time."
How many people a year visit Cedar and the other islands like it? "Maybe it's in the hundreds," Mr. Burden says, "but not the thousands."
THAT'S not the case at Chincoteague, this journey's last stop. It's one of the barrier islands but, unlike the rest, it has a town (population 4,300) and is reached by a bridge from the mainland. If you don't already know the story that saved the town's tourist economy, you'll know it before you leave. In 1947, a visitor to Chincoteague, Marguerite Henry of Wayne, Ill., wrote "Misty of Chincoteague," about one of the wild ponies on nearby Assateague Island. Each July some ponies are rounded up for a swim across the channel to Chincoteague, where they are auctioned to raise money for the Chincoteague Volunteer Fire Company. That book and the movie that followed put Chincoteague on the map.
So, you drive through streets lined with restaurants, T-shirt shops and pony-themed store windows. A new bridge to Chincoteague, to open next year, will send traffic straight into Maddox Boulevard, which shoots across the island to the bridge to Assateague Island, part of which is in Maryland. The island is home to the Chincoteague National Wildlife Refuge, the Assateague Island National Seashore and Assateague State Park.
Cross that bridge, pay the $5-per-car fee and start looking around. There are a lighthouse from 1867, a visitors center, walking trails and a glorious long and wide ocean beach. If you're among the first to arrive, you can park on the beach in an area just behind the dunes. You'll probably see ponies, which have no fear of humans, from the road as you drive. The ponies once had the run of the island, but now, to protect the beach dunes, they are contained in two large but fenced areas that visitors can enter.
Those ponies are probably the most famous attractions on the Eastern Shore of Virginia, and many people there seem quite happy to keep the spotlight on them. They simply mean, on the other islands, fewer footprints in the sand.
VISITOR INFORMATION
The Eastern Shore of Virginia National Wildlife Refuge (757-331-2760; www.fws.gov/northeast/easternshore) is open daylight hours. In Cape Charles, Kelly's Gingernut Pub (133 Mason Avenue; 757-331-3222) opens at 11:30 a.m. and serves pub food like crab cake sandwiches ($9); the Cape Charles Coffeehouse (241 Mason Avenue; 757-331-1880) is open daily 7 a.m. to 5 p.m., Friday and Saturday to 9 p.m. The Barrier Islands Center (7295 Young Street, Machipongo; 757-678-5550; www.barrierislandscenter.com) is open Tuesday through Saturday, 10 a.m. to 4 p.m. (and Sunday 1 to 5 p.m. from June 1 to Labor Day). Admission is $5. The free tasting bar and the sales counter at Chatham Vineyards (9232 Chatham Road, Machipongo; 757-678-5588; www.chathamvineyards.net) are open Thursday through Monday, 10 a.m. to 5 p.m., except noon to 5 on Sunday.
Onancock is at the western end of State Route 179 a few miles off U.S. 13. The Inn at Onancock (30 North Street; 757-789-7711; www.innatonancock.com) is a B & B in an 1886 house with a generous afternoon wine hour. Its rooms are $165 to $205. North Street Market (5 North Street; 757-787-8805), a specialty foods and wine shop, is also a 22-seat wine bar and restaurant on Friday and Saturday nights. SouthEast Expeditions (611 Mason Avenue, Cape Charles; 757-331-2680; www.sekayak.com) offers guided kayak tours, including a half-day tour ($85 per person) in conjunction with Chatham Vineyards with wine served on a secluded island. It also delivers and picks up rental kayaks at the Eastern Shore Refuge.
Broadwater Bay Ecotours (757-442-4363; www.broadwaterbayecotour.com) puts its motorboats in at a variety of points; a three-hour tour, led by a naturalist, is $85 a person.
Information on Assateague Island's three parks and refuges is at www.assateague.com.