Birding in Blackwater, From a Bike's-Eye View
By Christina Talcott
Washington Post Staff Writer
Sunday, April 20, 2008; P08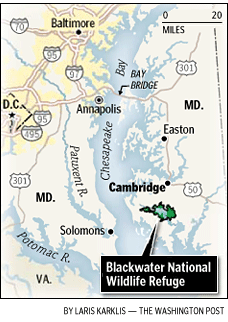 Where to Go, What to Do
I've never been a fan of bird-watching. The idea of standing in a field and squinting into binoculars, trying to see a tiny, faraway bird . . . not enough action for me. But what I learned a few weeks back, over the course of one meteorologically inconsistent weekend, is that bird-watching is a whole different game when you do it on a bike.
And at the Blackwater National Wildlife Refuge, in Dorchester County on Maryland's Eastern Shore, the naked eye does just fine. The birds there, at least some of them, are huge. During a three-hour ride on Wildlife Drive, I saw bald eagles with six-foot wingspans, turkey vultures weighing down tree branches and great blue herons dwarfing nearby mallards.
I'd driven Wildlife Drive before, but on a bike you can smell the sulfurous swamp, hear the rustle of a heron's wings and watch silently as red-winged blackbirds bob up and down on marsh grasses, their call-and-response whistles floating across the wetlands.
Plus, who can resist an easy bike ride on a warm spring day?
Though Blackwater is home to birds and other critters year-round, springtime is when the babies arrive, including two bald eagle chicks this year. The lack of mosquitoes at this time of year is another plus. And in spring you can see the sprouting marsh grasses, some of them planted by volunteers in an effort to curb erosion, one of the threats to the delicate ecosystem at Blackwater.
Of course, it's also the time of year when the urge to be outdoors in the fresh air meets the unreliable weather. I'd intended to paddle in Blackwater, not pedal it, but a scheduled kayak trip got nixed at the last minute thanks to those pesky April showers. Instead, on a sunny Saturday afternoon, I drove to Blackwater Paddle & Pedal Adventures to pick up a banana-yellow cruiser to ride to the refuge.
The refuge was established as a waterfowl sanctuary in 1933 and comprises 27,000 acres of incredible variety: freshwater impoundments, brackish tidal wetlands, open fields, and stands of evergreens and deciduous trees just now getting their leaves. Climate change and nearby development are serious threats to the refuge, which is home to 250 kinds of birds, those spring hatchlings among them.
From the bike and boat shop, run by the Meredith family out of their house about three miles from Blackwater, I biked to the refuge. I rolled past the signposted birthplace of Harriet Tubman, who lived most of her life in Dorchester, and a white building marked with a green turtle-shaped sign reading, "The Nause-Waiwash Band of Indians Inc. Longhouse." (The Nause-Waiwash are descendants of the Nanticokes, one of the native peoples John Smith encountered while exploring the region in 1608.)
By the time I got to the Blackwater refuge, I was revved to see more in the waning daylight hours, so I turned onto Wildlife Drive, a paved, one-way road that winds for five miles through Blackwater's forests and along Lake Blackwater's shore.
First stop: a scenic turnoff where I watched bald eagles swooping through the air and a lone American oystercatcher pecking in the sandy soil. Through a wooded part of the trail I spied a turkey vulture hulking in a nearby treetop. It wasn't alone. Soon I realized that there were more, maybe five in all, taking turns circling close by me before landing on tree branches. Did I really look as if I was going to croak? I mean, I was barely breaking a sweat, thanks to the road's easy grade and my frequent stops.
Still, I was out there by myself, just me and the vultures -- until the next car passed. I saw a dozen or so cars on my sojourn, the drivers cheerfully waving at me.
In the course of my 10-mile ride through the refuge -- I pedaled to the end of Wildlife Drive and back -- I also spotted ospreys, mallards, red-winged blackbirds, cardinals, robins and sea gulls. On a bike, I could pull off the road to watch or photograph the creatures without worrying about scaring them off with a car engine. And I could get pretty close: At one point, I stood stock-still and watched a heron a few yards away walk veeerry slooowly across a pool of water; I was able to get close enough to another heron to see the detail in his reflection and notice his black head feathers blowing in the breeze.
On the way back to drop off the bike, I saw the splayed legs of a sika deer that was grazing quietly at the wood's edge. It took a few seconds for the deer to notice a big white pickup barreling closer and closer. Sika deer are said to make up to 10 different sounds; this one made a noise that can only be described as a girlish shriek before bolting into the forest.
I stashed the bike back at the Merediths' and, with the sun setting over purple clover-filled fields, drove to my hotel for a good night's sleep.
The next morning: rain, lots of it, and a cold wind blowing. I went back to Blackwater anyway, staying dry in the visitors center, watching the baby eagles on the Eagle Cam as they snuggled at the edge of their nest.
I hope to tour Blackwater by kayak sometime soon, but seeing all those birds by bike felt intimate and exciting, and those flat roads made biking 15 miles feel like a piece of cake. Well, sort of. Were my legs stiff in the morning? You bet your tail feathers.